Friday Box Office Analysis
By Kim Hollis
April 21, 2007
BoxOfficeProphets.com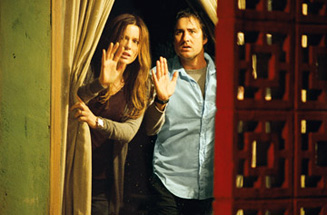 ---
The April blahs set in as no new releases set themselves apart from the pack. In fact, last week's number one film will see a repeat at the top spot.

Fracture

Opening on 2,551 screens, Fracture wasn't really able to distinguish itself as anything special. Anthony Hopkins as psychopathic serial killer has been done plenty of times before, after all. Even though the Hopkins/Ryan Gosling thriller got generally positive reviews, it still finished with only $3.6 million on Friday. Given that it will primarily reach a more adult demographic, it should have a solid multiplier over the weekend. With a 3.0 Friday-to-Sunday multiplier, Fracture is looking at a three-day total of $10.8 million.

Vacancy

Vacancy is one of those rare horror films that actually looks intriguing and watchable, which means that the normal audience who goes in for this sort of thing shunned it for the most part. Luke Wilson takes a break from comedy, joining the lovely Kate Beckinsale for this pseudo Psycho update. Vacancy earned $2.8 million on Friday, and will probably skew a little older than the typical horror flick thanks to its stars and the concept. With a 2.7 multiplier, it should be looking at a $7.7 million weekend.

Hot Fuzz

The brightest news of the weekend is the performance of Hot Fuzz, the British action spoof from the creators of Shaun of the Dead and the wonderful British television series Spaced. Focus Features released Hot Fuzz in only 825 venues, but the Simon Pegg/Nick Frost project was still able to rustle up a solid $2.1 million on Friday. It's a movie that likely saw a bit of a fanboy rush on Friday, but excellent reviews should counteract that effect somewhat. Give it $5.6 million for the weekend and a likely long shelf life when it reaches DVD (much like Shaun of the Dead).

In the Land of Women

Warner Bros. didn't do much to advertise this Adam Brody/Meg Ryan/Kristen Stewart film, but they probably didn't have huge expectations for it anyway. The film pulled in $1.9 million from $2,155 screens and will probably wind up with $5.3 million over the Friday-to-Sunday period.

Notable Holdovers

As mentioned before, Disturbia repeats at the number one spot. It falls 46% from last Friday with a total of $4.7 million, and should probably have a weekend total of over $13 million. The only opener from last week still surviving in the top ten is Perfect Stranger, which dropps a staggering 67%. People might just have noticed the terrible reviews. It will bring in another $5 million this week before becoming a distant memory.