Weekend Wrap-Up for April 13-15, 2007
Paramount and Disturbia Hot at the Box Office
By John Hamann
April 15, 2007
BoxOfficeProphets.com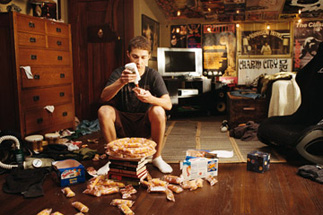 ---
The post-Easter weekend brought a smattering of new releases, but only one provided any significant impact at the box office. New releases included large movies like Paramount and DreamWorks's Disturbia and Sony's Perfect Stranger; smaller releases included Pathfinder from 20th Century Fox, Redline from Chicago Releasing and Aqua Teen Hunger Force from First Look. Holdovers had to deal with following a holiday Friday (as well as some of them opening on Wednesday and Thursday), which hurt some of them, but not all.

Our number one film is Disturbia from Paramount and DreamWorks. The Shia LaBeouf thriller opened to a surprisingly strong $23 million from 2,925 venues, better than doubling the expectations of most analysts. Disturbia had a venue average of $7,870, and an internal multiplier (weekend gross divided by Friday gross) of 2.64. How did the thriller manage to breakout as much as it did? Disturbia did have a savvy marketing campaign - the TV ad played well, as did the trailer. Having Shia LaBeouf topline the feature helped as well, as the young star has appeared in projects like Holes and Constantine, and has created a following. News broke on Friday that the ShoWest "Male Star of Tomorrow" is set to appear in the upcoming Indiana Jones movie with Harrison Ford. An announcement like that is certain to help your film, as every time that story was mentioned, so was Disturbia (it also helps that Paramount is behind both films).

Reviews for Disturbia were also better than expected. At RottenTomatoes, 102 reviews were counted and a surprising 68 were fresh. That gives the thriller a fresh rating of 67%, and removes the stench that usually follows these kinds of teen thrillers. Paramount and its recently purchased DreamWorks are certainly on a roll right now. They have the top two films in release, Disturbia and Blades of Glory, with the pair of them pulling in over $35 million this weekend alone. There will be more good news for the studio once summer is upon us, as DreamWorks has Shrek the Third and Transformers set for release (Paramount has very little on its own). For now, Disturbia is a great entry for the studios, as the budget couldn't have been more than $40 million, a figure it should be approaching by the end of its second weekend.

Following up in second is the aforementioned Blades of Glory with Will Ferrell and Jon Heder. Now in its third weekend, Blades pulled in $14 million this weekend, and earns a not bad drop of 38%. Following a holiday can be tough on weekend-to-weekend percentage drops. Last weekend's Friday holiday made theatres extremely busy, and making up for that this weekend can be very difficult. For example, following last year's Easter weekend, Scary Movie 4 dropped 58% in its second frame. So far the Paramount release has earned $90.2 million, and should see $100 million by the end of next weekend.

Finishing third is Disney's Meet the Robinsons, which had a very good weekend. Over the Easter frame (the film's second weekend), Meet the Robinsons earned $16.7 million. Over its third frame this weekend, The Robinsons earned $12.1 million, which equals a very nice drop of 28%. After not getting off to a great start ($25.1 million open), the Disney flick has seen some excellent holds. Last weekend the drop was only 33%, so to follow that up with a 28% drop is excellent news for all involved. So far, the CG animated film has pulled in $72 million, and it could see $100 million by the time Spiderman 3 opens in early May.

Finishing a disappointing fourth is Perfect Stranger, the Bruce Willis/Halle Berry thriller. This one got out-dueled by the surprisingly popular Disturbia, and earned only $11.5 million from 2,661 venues. Some thought that these two thrillers would cannibalize each other, but it wasn't the case, as Disturbia stole the show. Bruce Willis hasn't opened a live action feature above $20 million since Unbreakable in 2000 (he was hardly the draw in Sin City), but the combination of Halle Barry could have put this one over the top. The problem with Halle Berry is that apart from franchises with built-in audiences, she's had a tough time of it lately as well. The awful Catwoman opened to $16 million, but left an ugly mark on her resume due to the complete mess that film was. Apart from that, we have to go back to 2003's Gothika for a decent performance - that one opened to $19.3 million. Willis and Berry together were never going to have a pedestrian film like this open to over $20 million, especially with the reviews it got. At RottenTomatoes, 101 reviewers chimed in on Perfect Stranger, and most hated it, with only 13 finding something to like. That gives this thriller a rotten rating of 13%, a far cry from Disturbia's 67% fresh rating. This one will be gone very quick, and in the Wal-Mart $5.99 bin before you know it.

Fifth this weekend is Are We Done Yet?, a question answered by saying Not Yet, But Soon. After finishing third last weekend with $14.3 million, the Ice Cube comedy grossed $9.2 million in its second frame. That equals a drop of 35%, a figure I hope most are happy with. The first film in this series somehow dropped a mere 12% in its second frame (and was one of the worst films ever), so a larger drop for this equally bad film is quite refreshing. So far, the sequel has earned $33 million, so we can all hope together that $50 million isn't enough to green light a third film in this series.

It was a very tight race for the bottom rungs of the box office ladder, and when tomorrow's actuals are released, any of these films could move three or four spots up or down. Finishing sixth is a new release, the ultra-violent Pathfinder, which wasn't able to match the fan-base of 300. Pathfinder earned $4.8 million in its first weekend, and not a complete disaster considering it was only released to 1,720 venues. It had an average of $2,791. With its small amount of screens, and limited marketing budget, this one looks like the theatrical release was more of an ad for the DVD release, which will now be only a few months away. Starring no one and full of bloody effects, Pathfinder was made for a trim $45 million. It also carried an R rating, so its target audience wasn't old enough to see it in theatres. DVD will be a different story, and those teen boys won't care that it only got a 13% fresh rating at RottenTomatoes.

Our seventh place film is Wild Hogs, the Disney comedy that won't go away. Wild Hogs earned $4.6 million in its seventh weekend, dropping 30%. Star power alone is driving this one, as its 17% Rotten rating can't be helping things. Users at RT have a different opinion, though, leaving this one at 59%, so obviously there is a large divide between critics and audiences. Wild Hogs has now earned an amazing $152.2 million, and at the rate its going, could earn as much as $170 million at the domestic box office. Wild Hogs is currently the second biggest film of the year, behind only 300.

In eighth place we have another disaster in The Reaping. The Hilary Swank horror flick also got brutalized this weekend, dropping from $10 million last weekend to $4.6 million this weekend. That equals a drop of 54%, and will likely usher this one out of the top ten after only two weekends. So far, The Reaping has earned $19.8 million.

Landing in ninth is 300, as it crosses the mighty $200 million mark today at $200.8 million. 300 brought in an additional $4.3 million as it falls 48% from last weekend's total. Warner Bros. has to be plenty happy with this film's performance, and director Zack Snyder is looking like a shining star.

The Grindhouse got crunched this weekend, as the Tarantino/Rodriguez double-feature failed to even make the top ten on Friday. The three hour plus feature earned a tiny $4.2 million in its second weekend, giving it a dubious second weekend drop of 63%. This is a shame, as Grindhouse really is a positive movie going experience (for those 18 and over). Grindhouse has now earned $19.7 million, and Bob and Harvey Weinstein will have to decide if they want to split these two films up and try again theatrically, or just go straight to home video.

New films that didn't manage to make the top ten include Redline, Aqua Teen Hunger Force Colon Movie Film for Theaters, and Slow Burn (which you probably never even heard of).

Overall, things aren't all that positive for the weekend. The top ten this frame earned $92.5 million, giving us our first sub-$100 million weekend since February. Last year, the top ten earned a powerful $107.3 million; however, in 2006, that was the Easter Weekend. The next two weekends bring us filler until Spiderman 3 opens on May 3rd.