Friday Box Office Analysis
By Tim Briody
April 7, 2007
BoxOfficeProphets.com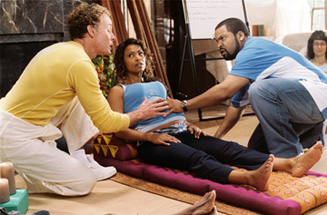 ---
Are We Done Yet?

After a Wednesday opening and mediocre numbers over the first two days, Ice Cube's family comedy sequel performs very well on Friday, with $5.3 million. Are We There Yet? earned $18.5 million in January 2005, and had a 3.37 weekend multiplier. Are We Done Yet? is hurt by Easter Sunday, when box office declines a bit and by Meet the Robinsons, which this couldn't top even on Friday. Still, look for Are We Done Yet? to come in with a weekend estimate of $16.4 million, giving it $20.7 million in five days.

Grindhouse

The Robert Rodriguez/Quentin Tarantion double feature lands in a somewhat disappointing fourth on Friday, with $5 million. Despite the advertising blitz and money shot of the assault rifle leg, this might be more cult classic than box office bonanza. I expect a below average mutiplier, with Easter not really having much of an impact (family stuff is hurt more). Figure a weekend of around $13 million.

The Reaping

The creepy-looking, Hilary Swank-starring The Reaping is another slight disappointment this weekend, it only earned about $3.9 million on Friday. While this looks better than most recent horror offerings, audience fatigue combined with demographic competition in the form of Grindhouse have left it lost in the shuffle. I see a mediocre weekend of $10.1 million.

Firehouse Dog

A movie so silly I can't even keep a straight face while discussing its box office hangs onto a top ten slot on Friday, with $1.5 million. The number four option for families this Easter weekend (behind Meet the Robinsons, Are We Done Yet? and TMNT), I figure only about $4.5 million for it over the weekend, giving it $5.8 million since its Wednesday release.

Notable Holdovers

None of the new releases this week could top Blades of Glory or Meet the Robinsons, both of which hold much better than expected. Blades of Glory is off only 26% from last Friday to $8.9 million, and Meet the Robinsons slips only 8%, an absolutely stunning figure. The Will Ferrell/Jon Heder comedy will still easily take the gold with around $26 million, while Meet the Robinsons will be hurt slightly thanks to Easter Sunday, but an overall 10% decline or so to a bit under $23 million is actually quite incredible.