April 2007 Forecast
By Michael Bentley
April 6, 2007
BoxOfficeProphets.com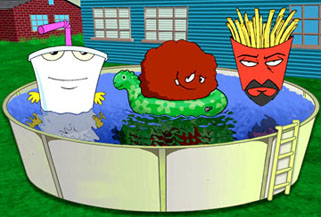 ---
Spring is in full bloom and that means another exciting month at the box office. What will you be seeing?

1) Grindhouse

Grindhouse is one of the more anticipated "fanboy"-type films of the year (after 300, and of course the upcoming Spider-Man 3). The project is a dual effort from friends Quentin Tarantino and Robert Rodriguez, with both directors piloting feature length movies that have been combined into one three hour movie along with a couple fake trailers (by other well-known directors including Eli Roth and Rob Zombie) thrown in for good measure. It is an ode to 1970s era exploitation B-movies. Tarantino did Death Proof, a sort of horror movie about a psychotic driver (Kurt Russell), and Rodriguez filmed Planet Terror, a zombie movie which features a woman with a gun for a leg (Rose McGowan).

Sounds like a lot of fun. But I don't expect it to perform anywhere near as well as the blockbuster 300 or any of the upcoming summer sequels. As loyal as the audiences are for QT and RR, they don't have nearly the mass appeal. Tarantino's last two films, the Kill Bill duo, opened to $22 and $25 million, respectively. This should be able to do about the same.

Opening weekend prediction: $27 million.

2) Next

Nicolas Cage has made a career by bouncing back and forth between mindless Hollywood action blockbusters and small awards bait (though mostly the former). And he's generally pretty good at it. Beyond his Oscar win (plus another nomination), he's starred in a total of six $100 million domestic earners, including his still-in-theaters Ghost Rider. Next is another one that could put its name on that lucrative list. Cage plays a Las Vegas entertainer who can see briefly into the future. He's lived with this ability all his life and now, with a possible terrorist threat in the city, government agents (including Julianne Moore) are trying to get his help. Jessica Biel also stars. The explosive thriller is directed by Lee Tamahori, whose repertoire includes the Bond flick Die Another Day and XXX: State of the Union. The story is actually based on a novel by legendary sci-fi author Philip K. Dick, whose visions have resulted in a number of very memorable adventures including Blade Runner, Total Recall and Minority Report. This doesn't exactly look like it will fit into that pantheon, but I still see a bright future.

Opening weekend: $25 million.

3) Are We Done Yet?

Former hardcore rapper, now generic family movie guy, Ice Cube stars in the sequel to Are We There Yet? The family-oriented comedy is about a newly married couple (Cube and Nia Long) and kids who move into a nice home in the suburbs. But the dream house is actually a "money pit" and they must deal with a wacky contractor (John C. McGinley, one of the "Bobs" in Office Space) who they hire to fix some things. There opened to more than $18 million in January 2005, before settling in with over $80 million domestically. Of course that was in the doldrums of early winter when there aren't a whole lot of other choices, but I can't think of any good reasons why this won't do just as well.


Opening weekend: $19 million.

4) Vacancy

Vacancy is a suspense-thriller starring Kate Beckinsale and Luke Wilson as a couple who check into a seedy motel. But things are much worse than just a dirty bathroom, a smelly bed or a television that doesn't work. They find a collection of old videotapes and decide to pop one in, but are shocked when the video turns out to be a violent snuff film. Even worse, it appears to have been filmed in the very room that they are currently in. And they find a hidden camera. Right now, the Bates Motel is sounding rather appealing.

The premise is certainly appealing, as I suspect it will be for a number of people who are looking for a good scare. However, the director is a "Nimrod". Will he screw it up?

Opening weekend: $18 million.

5) Disturbia

Well, first, about ten years ago, we had the remake of Alfred Hitchcock's unquestionable classic Rear Window (starring Christopher Reeve in Jimmy Stewart's role). Now we are reduced to a remake in disguise, under a different name with an ever-so-slightly different plot. Shia LeBeouf stars as a young man under house arrest. Bored, he becomes a sort of voyeur, looking out his window into his neighbor's lives. And one of them may be a serial killer. The suspense might be enough to lure in younger people who aren't familiar with Hitch's work, but this will likely be out of theaters pretty quickly. Preorder your DVD now!

Opening weekend: $14 million.

6) Perfect Stranger

It's been 14 years since his show went off the air, and now Bronson Pinchot is back by himself as a Perfect Stranger. Gone is his bland cousin Larry Appleton (sorry Mark Linn-Baker) and now crazy Greek sheepherder Balki Bartokomous walks the planet in search of attaining nirvana.

No, not really. But you're lying if you didn't think of Balki when you first read the title to Perfect Stranger from director James Foley (Glengarry Glen Ross; The Chamber)! In actuality, the story is about a journalist (Oscar winner Halle Berry) who goes undercover to track down a businessman (Bruce Willis) and finger him as the killer of her friend. The dramatic thriller soon becomes a nice game of cat and mouse. And it will also be a nice test of the current box office drawing power of both Berry and Willis (his recent films such as 16 Blocks and Hostage have been complete duds).

Opening weekend: $13 million.

7) The Reaping

Early reviews haven't been kind to this thriller starring Hilary Swank as an expert at disproving strange religious phenomena. But her "faith" is shaken when she visits a town that appears to be suffering from the Biblical plagues. Opening Easter weekend, The Reaping might manage to pull in some families looking for some escapist entertainment.

Opening weekend: $12 million.

8) Fracture


Yet another dramatic thriller this month is Fracture, starring Sir Anthony Hopkins and Ryan Gosling - the latter certainly hoping to expand on the momentum he had earlier this year with his acclaim and Oscar nomination for his work in Half Nelson. Gosling plays an assistant D.A. and Hopkins is an alleged killer who is released due to some legal technicalities. Determined to still bring the killer down, the attorney gets caught in a dangerous game. Sounds decent, and certainly has a very capable pair of actors, though I wonder whether it will be able to stand out in the crowd of other movies this month.

Opening weekend: $10 million.

9) Redline

There is absolutely nothing original about Redline. It could very well have been called 4 Fast 4 Furious, as the illegal street racing plot bears a striking resemblance to the popular Fast and the Furious saga. Since it's not part of that franchise, though, awareness and desire to see this won't be very high. This will pull in a very young and male-skewing group. Eddie Griffin (who crashed a rare Ferrari during promotions for the film) and Nathan Phillips (Wolf Creek) are among the stars.

Opening weekend: $8 million.

10) Hot Fuzz

"From the guys who watched every action movie ever made and created Shaun of the Dead." That's all you needed to tell me; I'm sold. It is from writers Simon Pegg (who also stars) and Edgar Wright (the director), the same creative team behind the aforementioned delicious rom-zom-com cult-classic Shaun of the Dead. Pegg plays a London cop who is forced to transfer to a small town - because he is making his colleagues look bad. It is a town with very little crime - but a ridiculously high rate of "accidents." Or are they? With his new bumbling partner (Nick Frost) he begins to investigate. I'd love to put this higher on the list, as it is by far my most anticipated movie of the next several months, but likely screen counts will hold this back. This is unfortunate because it looks great.

Opening weekend: $7 million.

Just Under the Radar

The Hoax

Richard Gere stars in the real-life story of a man who sold his fake biography of Howard Hughes in the 1970s. A media frenzy ensued until the scam was finally uncovered.

Lonely Hearts

This is another adaption of the real life story of the "Lonely Hearts Killers" who scammed poor widows out of their money and then killed them. The strong cast includes John Travolta (hot off his Wild Hogs), The Sopranos' James Gandolfini, Salma Hayek, and Jared Leto.

* Please note that all opening weekend estimates are preliminary and do not account for final screen counts.