But It's February!
By Tim Briody
October 12, 2002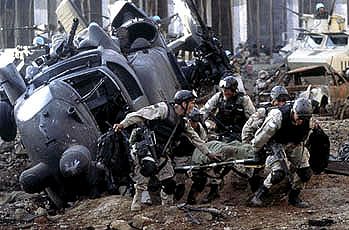 For two consecutive weeks, a monthly record has fallen. September and October have now seen openings that approach the $40 million mark. Believe it or not, there once was a time when many declared even a $20 million opening impossible for both of these months. After I reach for my dentures and walker, let me explain.
A few years ago, it was a fairly common and more-or-less accepted belief that movies could only score big in the summer and the months of November and December. As for the other months, it took an anomaly like the re-release of Star Wars, a goofy comedy starring Jim Carrey or the Teenage Mutant Ninja Turtles to break $20 million in any other month.
Heading into 1998, the biggest openings for each of the non-summer, non-holiday (May-August, November-December) months were as follows:
January: Legends of the Fall, $14 million (non-MLK: Twelve Monkeys, $13.8 million)
February: Dante's Peak, $18.5 million
March: Liar Liar, $31.4 million
April: Indecent Proposal, $18.4 million
September: The First Wives Club, $18.9 million
October: I Know What You Did Last Summer, $15.8 million
Films released during this month were doomed to opening below $20 million, the naysayers always cried.
"It's never happened before (or has very rarely happened) so why should it happen now?"
"Audiences just don't go to movies as much during these times of the year as they do during the summer and holidays."
"September and January are the dumping grounds for the studios."
Ah, those were the days. Back in the present, every month has now seen a $20 million opening. In fact, as of right now, here are the current record openings for each of those months.
January: Black Hawk Down, $33.6 million (non-MLK: Snow Dogs, $23.7 million)
February: Hannibal, $58 million
March: Ice Age, $46.3 million
April: The Scorpion King, $36.08 million
September: Sweet Home Alabama, $35.6 million
October: Red Dragon, $37.4 million
Notice that in just four years, not only has the $20 million barrier been broken in every month, but so has the $30 million mark.
What are all these big openings attributed to? It's certainly not all inflation, even though all but one of those record-holders happen to be movies released in 2002. Studios have realized that audiences will flock to quality (or something that they really want to see) no matter when it comes out. Perhaps the success of the Star Wars re-releases helped them realize this, as Star Wars: SE would still have the January record if it were included.
Marketing has also improved to the point that anything with strong advertising will bring in the viewers, even if the product is weak. There's a reason Hannibal Lecter now owns two of these records. Franchise films are also solid, regardless of release date. When Scream 3 got pushed out of its usual December date to February, there were major concerns about its box office potential. Until it broke the February record with a $34.7 million opening.
To bring up the month of August as well, it's now fully engulfed by the summer movie season. But up until 1999, it pretty much took Harrison Ford to break $20 million. Then a little film called The Sixth Sense ended up one of the top ten grossing films of all time. Studios now have no problem releasing high-profile films in this month, as evidenced by two $60+ million openings.
Are months like September and January still used as dumping grounds? Of course they are. A lot of the sub-$10 million openings are generally evidence of this. Though even some are helped by that improved marketing I mentioned (how else to explain the $11 million openings of The Mothman Prophecies and The Count of Monte Cristo?). And 2001's Jeepers Creepers aside (there's that marketing again), Labor Day weekend generally remains the worst box office weekend of the year.
Every film has a chance to be big, no matter what month it is. Just because it's February is no reason to claim something will bomb. All it takes is a little common sense to tell you what films are being thrown to the wolves and what films the studios actually believe in.