Swimfan a Fatal Attraction for Teen Viewers

By Tim Briody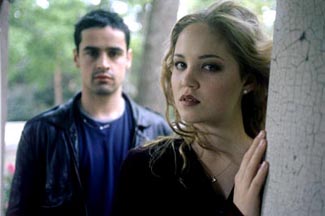 While nothing exactly set the world on fire this weekend, the two openers inject some new blood into the top of the box office, something that hasn't happened since Blue Crush opened in mid-August.
Swimfan
Swimfan scored a decent estimated $4.3 million Friday. Fueled by a solid ad campaign over the last few weeks, it clearly appealed to that key 18-to-24 demographic that hasn't had anything worth seeing since xXx. Though most of that audience may have turned out Friday night, Swimfan is still on its way to the number one spot and a $12.1 million weekend.
City by the Sea
City by the Sea brought in an estimated $2.9 million Friday, which it owes entirely to the presence of Robert DeNiro. Skewing adult, the based-on-a-true-story cop drama should end up with $9.1 million.
Holdovers
My Big Fat Greek Wedding's quest for the top spot effectively comes to an end in its 21st weekend. Its Friday take actually drops from the previous Friday for the first time since its release. Still, with another $2.7 million added to the till, it should end up with around $9 million for the weekend, and pass the magical $100 million mark sometime during the week.
Signs crosses the $200 million mark with a $2.2 million weekend, though it looks to fall from first to fourth, thanks to the two openers and post-Labor Day decline.
Last week's DOA opener, feardotcom, drops 61% from last Friday with an estimated $700,000 Friday. A total weekend of around $2 million is likely.
Finally, the last-chance-to-see-'em combo of Spider-Man and Men in Black II could only manage an estimated $588,000 Friday. Even in 1,850 only theaters, this is basically par for the course for re-releases. The twin bill will end up with under $2 million for the weekend.
Check back tomorrow for the full weekend estimates and analysis.
Extrapolated Estimates for the Top Ten

Projected
Rank

Film

Estimated Gross ($)

1

Swimfan

12.17

2

City by the Sea

9.1

3

My Big Fat Greek Wedding

8.8

4

Signs

6.6

5

xXx

4.0

6

Austin Powers in Goldmember

2.1

7

fear dot com

1.9

8

Spider-Man/Men in Black II

1.8

9

Spy Kids 2: Island of Lost Dreams

1.7

10

Blue Crush

1.5