A Look at Friday's Numbers?

By Tim Briody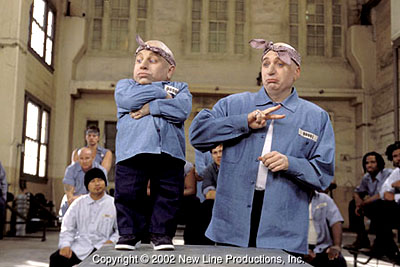 Now that's a little more like it. After last week's lackluster performance by the openers, Austin Powers brings a little mojo and jumpstarts the box office as it heads into August.
Austin Powers In Goldmember
Quieting any talk of overexposure and bad buzz leading up to release, the third film in the Austin Powers franchise nabbed a staggering $27.4 million on Friday. Keep in mind that last week's number one, Road to Perdition, made $15.4 million the entire weekend. Oh, and by the way, The Spy Who Shagged Me's Friday number was a measly $20.5 million. Add in another $3.6 million from Thursday, and Goldmember already sits at $31 million. If it has the same pattern as the last film, it's looking at a $78 million weekend. Given a bigger Friday number, a weekend in the lower 70s may be a bit more fitting.
The Country Bears
Earning an estimated $1.7 million Friday, the Disney flick is clearly underwhelming. The concept (and the ads) may just be a bit too much for some kids to take and for parents to want to take their kids to. The Country Bears looks to end up with about $5 million this weekend.
Holdovers
Stuart Little 2 drops 37% from last Friday with $3.3 million. It will again be neck-and-neck with Road to Perdition, this time for second place. K-19: The Widowmaker drops a not-surprising 44% and will drop at least 40% for the entire weekend. Meanwhile, Eight Legged Freaks falls out of the top ten entirely in its second weekend, meaning a Friday-to-Friday decline of at least 62%. Ouch. Goldmember stands to make what last weekend's top five films made. It will also put this weekend on par with the top ten this weekend last year, when Planet of the Apes debuted with $68.5 million.