Friday Numbers Analysis
By Tim Briody
November 22, 2003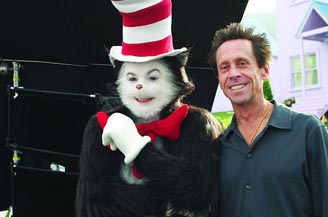 It did not bomb after all
People saw it at the mall
It will not equal Seuss' Grinch
Though it's number one in a cinch
The Cat in the Hat
The latest Dr. Seuss adaptation earned an estimated $10.6 million Friday. This is down a bit from the $15.6 2000's How the Grinch Stole Christmas earned on its opening night, but the Mike Myers vehicle is set to lead the box office as we head into Thanksgiving. Grinch had an impressive 3.52 multiplier on its way to a $55 million opening, so it's pretty reasonable to expect the same thing here. Look for The Cat in the Hat to finish the weekend with $37.3 million.
Gothika
The Halle Berry psychological thriller earned a pretty good $6.9 million Friday. Credit the advertising and star-power for that number. Both of those things may help the film keep its head above water over the rest of the weekend, too. Give it a 2.75 multiplier and an $18.7 million weekend.
Notable Holdovers
Elf continues its impressive run, down just 24.6% despite the presence of The Cat in the Hat. It will be just short of $20 million for the weekend and $100 million for a total after three weeks.
Master and Commander drops a fairly surprising 47% from last Friday, but should be able to recover to around 40% for the whole weekend. Elsewhere, Looney Tunes: Back in Action drops an insane 74.5% from one week ago.
Extrapolated Estimates for the Top Ten (Three-Day)

Projected
Rank

Film

Estimated Gross (M$)

1

The Cat in the Hat

37.3

2

Elf

19.7

3

Gothika

18.7

4

Master and Commander: The Far Side of the World

15.4

5

Love Actually

8.9

6

The Matrix Revolutions

6.5

7

Brother Bear

5.6

8

Scary Movie 3

3.1

9

Radio

2.7

10

Looney Tunes: Back in Action

2.3