Red Dragon Tattoos the Competition

By Tim Briody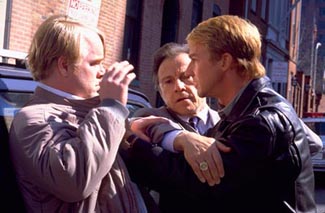 It's not the home run many predicted, as it will fall well short of Hannibal's $58 million in February of 2001, but Red Dragon will still easily win the weekend as well as break the October opening record.
Red Dragon
The prequel to Silence of the Lambs took in an estimated $12.8 million Friday. It seems disappointing considering the benchmarks for event films and franchise pictures these days, but Meet the Parents' October record of $28.6 million is still toast. Perspective, people, perspective. Hannibal's internal multiplier for its opening weekend was 2.93, which is perfectly acceptable for Red Dragon, giving the Anthony Hopkins/Edward Norton picture $37.6 million for the weekend.
Jonah: A VeggieTales Movie
The animated Christian talking vegetables (which is a great band name, by the way) managed a not-that-bad $1.9 million Friday. Despite only playing in 940 screens, the film will benefit from weekend matinees and should end up with around $6 million for the weekend.
Notable Holdovers
Sweet Home Alabama falls a somewhat-alarming 42% from last Friday with an estimated $7.4 million. It will rebound a little the rest of the weekend, giving it an overall drop in the range of the upper 30s and a weekend of $24 million.
Jackie Chan's The Tuxedo also falls 42% from last week with $2.6 million. Give it about $7.8 million for the weekend.
The My Big Fat Greek Wedding machine continues to roll on as it drops just 13% from last Friday, adding another $2.4 million to the tally. Of note this weekend is that it stands at $141.9 million as of Friday, passing The Blair Witch Project ($140.5 million) as the highest grossing indie ever. It should finish the weekend with around $9 million, and pass $150 million during the week.
With the weak lower-end of the top ten, Moonlight Mile sneaks on with $589,000 in 434 theaters. Which looks good at first glance, but gives it a weak per-screen average, considering it averaged nearly $15,000 in 22 theaters last week. Another case of too quick, too soon. A $2 million weekend is enough to keep it in the top ten, but its stay won't be a very long one.
Check back tomorrow for the full weekend numbers and analysis.
Extrapolated Estimates for the Top Ten

Projected
Rank

Film

Estimated Gross (M$)

1

Red Dragon

37.6

2

Sweet Home Alabama

24.0

3

My Big Fat Greek Wedding

9.0

4

The Tuxedo

7.8

5

Barbershop

6.6

6

Jonah: A VeggieTales Movie

6.0

7

The Banger Sisters

3.3

8

The Four Feathers

2.4

9

Moonlight Mile

2.0

10

One Hour Photo

1.7
Internal multiplier = A comparison of Friday's numbers to the rest of the weekend. So if Sweet Home Alabama makes $5.1 million on Friday and $17.8 million for the whole weekend, then its internal multiplier is 3.5 ($17.8 million / $5.1 million = 3.5). Analysts use this number in reverse to predict weekend numbers from Friday's numbers.