Friday Numbers Analysis
By Tim Briody
October 18, 2003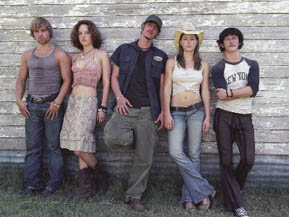 The Texas Chainsaw Massacre
The remake of the teen slasher pic opened to an incredible estimated $10.9 million Friday. Even with the killer (heh) marketing that contributed to this opening night success, standard horror film rules still apply. Witness August's smash Freddy vs. Jason. But even with a 2.6 internal multiplier, the first day figure is enough to give The Texas Chainsaw Massacre a $28.3 million weekend.
Runaway Jury
Runway Jury earned a disappointing estimated $4.1 million Friday. Perhaps having seen the entire movie in the previews kept folks away from the John Grisham adaptation. The best it can hope for now is positive word-of-mouth after a 3.1 multiplier and $12.6 million weekend.
Mystic River
Clint Eastwood's Mystic River kicks the Oscar season into high gear in its first weekend in wide release as it earns a decent $3.3 million on 1,467 screens. The film's pedigree should keep it on the minds of the viewers and its financial success should keep it on the minds of the Academy come awards season. A 3.2 weekend multiplier gives Mystic River a very impressive $10.5 million start.
Notable Holdovers
Kill Bill Volume 1 falls 47% from last Friday. This was to be expected, the Quentin Tarantino film certainly could have had a much larger drop. An overall weekend decline of around 45% and a $12 million weekend should be in store.
With School of Rock the only other option out there for families, Good Boy! falls just 23.3% from the previous Friday, and could be down as low as 20% for the weekend.
Despite their film being a romantic comedy, the Coen brothers are only slightly better off than Tarantino. Intolerable Cruelty drops an alarming 45.6% from last Friday. The drop is excessive for the genre, even one that got generally positive reviews. The weekend will bring about a 40% decline, but that's still bad news.
Extrapolated Estimates for the Top Ten (Three-Day)

Projected
Rank

Film

Estimated Gross (M$)

1

The Texas Chainsaw Massacre

28.3

2

Runaway Jury

12.6

3

Kill Bill Volume 1

12.0

4

The School of Rock

11.7

5

Mystic River

10.5

6

Good Boy!

10.2

7

Intolerable Cruelty

7.5

8

Out of Time

4.3

9

Under the Tuscan Sun

3.6

10

The Rundown

3.0