Friday Numbers Analysis
By Tim Briody
August 23, 2003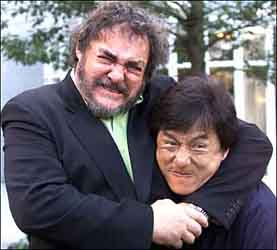 Freddy vs. Jason
The battle of the classic horror characters earned a solid estimated $13.8 million Friday, which in one day blows the doors of nearly every film in both the Friday the 13th and Nightmare on Elm Street franchises.
For reference, the highest grossing film in either of the two series is Nightmare on Elm Street 4, which grossed $49.3 million in 1988. The highest grossing Friday the 13th film is the first one, which made $39.7 million in 1980 (and translates to over $90 milion in today's dollars).
While this movie is obviously going to turn a profit for New Line, it's also pretty clear that it's all downhill from here for Freddy vs. Jason. The core audience always turns out opening night for films like these. Still, a 2.5 internal multiplier gives Freddy vs. Jason an impressive $34.5 million for the weekend, which makes anything else this movie earns gravy for the studio.
Open Range
While Kevin Costner has gotten some of his best reviews among films he's directed since Dances With Wolves, audiences weren't quite as quick to warm back up to him, as Open Range earned an estimated $4.3 million on Friday, which isn't all bad since the film is relying on positive word of mouth to get rolling. An adult-skewing 3.2 weekend multiplier gives Open Range a $13.7 miliion start, as it attempts to leg it out into the fall.
Uptown Girls
With its target audience falling in between the ages of the audiences for Freaky Friday and Open Range, Uptown Girls found its own niche with a not-bad $4.1 million Friday. Who said there's too much competition out there? A 2.8 weekend multiplier sounds about right, so a weekend total of $11.4 is a good start for the Brittany Murphy/Dakota Fanning comedy.
Grind
Sneaking into the top ten with $1.1 million is Grind. See, now if the movie had been like Jackass and had people falling off their skateboards, it would have done much better. A weekend total of $2.5 million is in its future, followed by a quick exit from theaters.
Notable Holdovers
S.W.A.T. nosedives 61% from last Friday, continuing the summer trend of one and done films. An overall weekend decline of 55% seems likely. Freaky Friday holds better, dropping only 45% from last week. That's a bit higher than would be expected from a family film, but perhaps Uptown Girls siphoned off some of its audience. It should finish the weekend down around 35-40%.
Extrapolated Estimates for the Top Ten

Projected
Rank

Film

Estimated Gross (M$)

1

Freddy vs. Jason

34.7

2

S.W.A.T.

16.6

3

Freaky Friday

14.0

4

Open Range

13.7

5

Uptown Girls

11.4

6

Pirates of the Caribbean: The Curse of the Black Pearl

8.3

7

Seabiscuit

7.7

8

American Wedding

7.4

9

Spy Kids 3-D: Game Over

4.4

10

Grind

2.5