Friday Numbers Analysis
By Tim Briody
August 9, 2003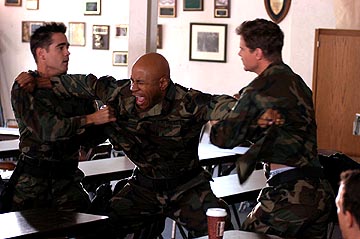 $.W.A.T.
While both of this weekend's openers are certified hits, even the sturdiest of holdovers faltered this weekend, signaling that the summer box office money train appears to be coming to an end.
S.W.A.T.
The television show (think anyone in the target audience even remembers it?) remake earned a decent estimated $13.5 million Friday. Looking at other action films this summer, we get internal multipliers of 3.3 for T3, 2.68 for Bad Boys II and 2.61 for Tomb Raider. You can throw out T3's due to the holiday weekend inflating the number, and the other two numbers fall on the low side due to both films being sequels. S.W.A.T. should end up with around a 2.7 multiplier, good for a $36.4 million weekend.
Freaky Friday
The Disney remake earned a quite freaky $7.8 million Friday, on top of the $10.9 million it earned in its first two days of release. The Wednesday start will temper the internal multiplier a bit (as will that fact that it's a summer release), but even a 2.9 multiplier will give it a $22.6 million weekend and an impressive $33.5 million after five days.
Notable Holdovers
American Wedding may not have quite the legs of the first two films in the series, as the third entry falls 59% from last Friday. American Pie 2 fell similarly in its second weekend, but was earning about $2 million more a day than American Wedding at this point. A weekend of about $16 million looks likely for the disappointing final entry in this franchise.
Throughout the rest of the top ten, most films had larger Friday-Friday declines than in the previous week. Seabiscuit and Pirates of the Caribean both fall 33%, higher than previous weeks. Spy Kids 3-D falls another 53% and Finding Nemo sees its largest decline in a while at 39%. While some of these older films are losing screens to newer releases, the across the board drops indicate that we're heading out of the summer box office period that lead to above average legs, which is not good news for the rest of the August releases.
Everyone point and laugh at Ben Affleck and Jennifer Lopez. Again. Gigli collapses an insane 86% from last Friday, earning just $204,000.
Extrapolated Estimates for the Top Ten

Projected
Rank

Film

Estimated Gross (M$)

1

S.W.A.T

36.4

2

Freaky Friday

22.6

3

American Wedding

16

4

Pirates of the Caribbean: The Curse of the Black Pearl

12.5

5

Seabiscuit

11.7

6

Spy Kids 3-D: Game Over

9

7

Bad Boys II

6.4

8

Lara Croft: Tomb Raider: The Cradle of Lie

4.7

9

Finding Nemo

2.4

10

Terminator 3: Rise of the Machines

1.7