Friday Numbers Analysis
By Tim Briody
July 19, 2003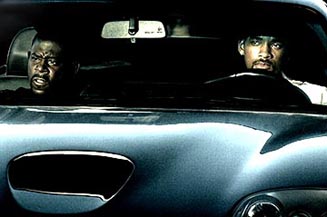 It's Jerry Bruckheimer's world. We just live in it.
Bad Boys II
An estimated $17.4 million Friday for Bad Boys II will give Jerry Bruckheimer the top two spots at the box office, with Pirates of the Caribbean, his other film, falling to second. Seeing as how Bad Boys was released in 1995, it's a terrible choice for a comparison, but it's amusing to note (and key to how the box office beast has changed) that the sequel earned more Friday than the first film did in its entire weekend.
What Bad Boys II has to do now is avoid what has happened to a lot of sequels this summer: avoid shooting its entire wad on day one. The odds of this happening aren't all that spectacular, so the film should end up with a 2.7 multiplier and a $46.9 million weekend.
Johnny English
Rowan Atkinson's return to North American theaters is not quite a smashing success, though not a complete failure either. A not-bad $3 million Friday means it won't match the $12.7 million earned by Bean back in 1998, but a $9 million weekend is really nothing to sneeze at, either.
How to Deal
Also taking a step back from her previous effort, Mandy Moore's How to Deal earned an estimated $2.7 million Friday, so A Walk to Remember's $12.1 million opening weekend total is pretty much unreachable. Considering the lousy 2.68 internal multiplier that film had, it's clear Moore's fanbase turns out on opening night, so it's reasonable to expect the same thing from How to Deal. It should finish with $7.2 million
Notable Holdovers
With a Friday-to-Friday decline of just 30%, Pirates of the Caribbean: The Curse of the Black Pearl immediately becomes one of the leggiest films of the summer. Its total weekend drop could be as low as 25%, so it's full speed ahead to Sequelville for this Bruckheimer film.
The League of Extraordinary Gentlemen is not quite so extraordinary, dropping 60% from last Friday. A weekend decline of 55% is about the best it can hope for.
Extrapolated Estimates for the Top Ten

Projected
Rank

Film

Estimated Gross (M$)

1

Bad Boys II

46.9

2

Pirates of the Caribbean: The Curse of the Black Pearl

34.0

3

The League of Extraordinary Gentlemen

10.3

4

Terminator 3: Rise of the Machines

9.3

5

Johnny English

9.0

6

Finding Nemo

7.2

7

How to Deal

7.2

8

Legally Blonde 2: Red, White & Blonde

5.9

9

Charlie's Angels: Full Throttle

4.5

10

28 Days Later

2.4