Sorry, Charlie
By Tim Briody
June 28, 2003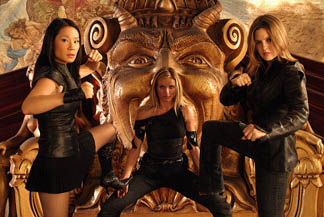 Can we still call a summer movie that opens to less than $40 million a disappointment? I make the case that Charlie's Angels: Full Throttle qualifies because it will do something that has now become the rule with sequels as opposed to the exception: fail to top the opening weekend of its predecessor.
Charlie's Angels: Full Throttle
With an estimated Friday number of $14.7 million, the sequel beats the Friday number of the original, which took in $13.7 million on day one. However, the November 2000 release benefitted from a 2.94 weekend multiplier en route to a $40.1 million weekend. June is not nearly as kind a month, especially to sequels. A 2.65 multiplier for the weekend gives Charlie's Angels: Full Throttle a rather disappointing $38.9 million, and unless extremely positive word-of-mouth kicks in over the next few weekends, consider this franchise finished.
28 Days Later
The Danny Boyle-directed zombie thriller earned a quite-decent $3.3 million Friday on just 1,258 screens. It should do a little better in the multiplier department than the last cult horror film, April's House of 1000 Corpses. A 2.6 multiplier gives 28 Days Later weekend earnings of $8.5 million.
Notable Holdovers
Perhaps the biggest shocker of them all this frame is the massive collapse of The Hulk in weekend two. Down a ridiculous 76.8% from last Friday, the idea of a franchise is quickly evaporating. Hulk should still barely eke out $100 million by the end of the weekend, but $150 million is going to look like a stretch.
Alex & Emma also falls an alarming 61.3% from the previous Friday. Wasn't Kate Hudson hailed as the next Julia/Meg/whomever after the $100 million gross of How To Lose A Guy In 10 Days? Oops.
Extrapolated Estimates for the Top Ten

Projected
Rank

Film

Estimated Gross (M$)

1

Charlie's Angels: Full Throttle

38.9

2

The Hulk

18.5

3

Finding Nemo

13.9

4

28 Days Later

8.5

5

Bruce Almighty

5.9

6

2 Fast 2 Furious

5.6

7

The Italian Job

5.2

8

Rugrats Go Wild!

3.5

9

Hollywood Homicide

2.8

10

Alex and Emma

2.6