Friday Numbers Analysis
By Tim Briody
May 17, 2003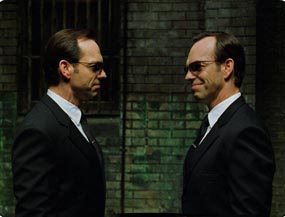 The Matrix Reloaded continued its historic opening, earning an estimated $31.4 million Friday, giving it a massive $73.9 million already and making it a mortal lock to pass $100 million after just three days.
The Matrix Reloaded
Despite a 26% drop from Thursday, the Friday estimate of $31.4 million places eighth among the highest single day earnings ever. The size of the day-to-day drop is nothing to get overly worried about; as David Parker said yesterday, this is the fanboy opening that Star Wars fans only dreamt about. The Thursday number likely benefited from essentially having two midnight showings, the ones at midnight Wednesday, and the final showings on Thursday, as many theaters had final showings at midnight or perhaps even later. And even with that decline from Thursday to Friday, we're still talking record-breaking numbers here.
The picture for Reloaded's weekend total becomes a bit clearer now. Films rated R generally skew adult. Expect a nice rebound with Saturday's number, since all the daytime shows will be complete or near sellouts. (I stopped at my local theater before noon today to pick up tickets for tonight. I couldn't park anywhere near the place. This has never happened before, ever.)
Let's plug in various multiplers from similar or other event films and see what happens.
The Phantom Menace: 3.52 = $110.5
Attack of the Clones: 3.28 = $102.9
X2: X-Men United: 2.53 = $79.4
Spider-Man: 2.89 = $90.7
Hannibal (previous R-rated opening record) 3.01 = $94.5
We can toss out the X2 number, but every other result is certainly within reason for Reloaded. Given an anticiptation similar to that of the Star Wars prequels, and noting that R-rated films tend to skew more adult, I would truly be surprised to see a multiplier below 3.0, even with these enormous numbers. A 3.2 multiplier for The Matrix Reloaded will give it a Friday-Sunday total of $100.5 million, and a four-day total of $143 million.
Down with Love
The Renee Zellweger/Ewan McGregor throwback romantic comedy also broke box office records this weekend. Well, if we're talking in 1960's dollars, anyway. An estimated $2.4 million Friday means viewers were not exactly down with Down with Love, but all is not lost. The low number is likely due to The Matrix Reloaded keeping people away or either drawing them to that film. As a rule, films don't compete with each other for audiences, but there has never been anything like the scope of The Matrix sequel release. Still, Down With Love should recover over the weekend, and then can find an audience over the Memorial Day weekend and into the summer. A 3.25 multiplier gives the film a still-kind-of-disappointing $7.8 million weekend.
Notable Holdovers
Daddy Day Care is one of the few films in the top ten that winds up being Matrix-proof, as it only drops 35% from last Friday. A $17.5 second weekend cruises the film past $50 million, and if it keeps it up, it should be able to leg it out past the $100 million mark over the summer.
Extrapolated Estimates for the Top Ten

Projected
Rank

Film

Estimated Gross (M$)

1

The Matrix Reloaded

100.5

2

Daddy Day Care

17.5

3

X2: X-Men United

16.1

4

Down with Love

7.8

5

The Lizzie McGuire Movie

4.2

6

Identity

3.7

7

Anger Management

3.6

8

Holes

3.5

9

A Mighty Wind

1.6

10

Bend It Like Beckham

1.5