Friday Numbers Analysis
By Tim Briody
April 19, 2003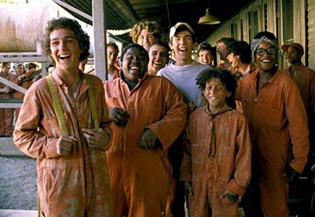 I count three legitimate surprises in the Friday numbers this week, but none of those is the fact that Anger Management remains at the top.
Holes
Earning a stellar $7.5 million on Friday, Holes will easily be the highest-grossing opener of the weekend, but it's not enough to top Anger Management. I somehow completely missed this one, as I'd never heard of the book and I consider myself to be on top of these things. Anyway, the kid-friendly film should end up with an impressive $22.3 million for the weekend, and they can break out the party hats at Buena Vista.
Malibu's Most Wanted
The second of the three surprises this weekend, the Jamie Kennedy vehicle somehow scored an estimated $5.4 milion Friday. I guess we can blame Bringing Down the House for that. Check off another sign of the apocalypse as Malibu's Most Wanted will finish the weekend around $14.1 million.
Bulletproof Monk
After earning $3.1 million in its first two days of business, the Chow Yun-Fat/Seann William Scott buddy comedy couldn't satisfy any cravings viewers had for The Matrix sequel, as it only made another $3.2 million on Friday. A $8.3 million weekend gives it $11.4 million after five days, and a likely quick exit as higher profile stuff (including said Matrix sequel) inches closer to release.
Notable Holdovers
Down a better than expected 29.5% from last Friday, Anger Management takes a second weekend at the top, down to a still-impressive $28.5 million, as it should have no problem crossing the $100 million barrier in another two weeks or so.
The third big surprise of the weekend is that with a small expansion, House of 1000 Corpses actually manages a second weekend (or a second Friday, at the very least) in the top ten. Off an amazing 31.1% from last Friday, Rob Zombie's horror film will stick around the lower rungs of the box office chart with $2.8 million. This, of course, is pending the performances of Chasing Papi and A Mighty Wind, neither of which reported Friday estimates.
Check back tomorrow for the full weekend estimates and analysis.
Extrapolated Estimates for the Top Ten

Projected
Rank

Film

Estimated Gross (M$)

1

Anger Management

28.5

2

Holes

22.3

3

Malibu's Most Wanted

14.1

4

Bulletproof Monk

8.3

5

What a Girl Wants

7.3

6

Phone Booth

6.8

7

Bringing Down the House

3.5

8

A Man Apart

3.0

9

Chicago

3.0

10

House of 1000 Corpses

2.8