Friday Numbers Analysis
By Tim Briody
April 12, 2003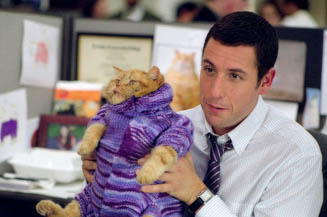 The April opening record, currently held by The Scorpion King, will be shattered by Anger Management. However, that's not exactly the big surprise this weekend.
Anger Management
Apparently I was the only person to have seen the entire film in the 97 different TV ads. Anger Management earned an estimated $15.7 million Friday. That tops the $12.7 million Friday of the Scorpion King, and means the $38 million April record is not long for this world. Sandler's fanboy audience always turns out opening night, but the presence of Jack Nicholson, and the fact that comedies have been hot in 2003 may bring out a few folks outside of Sandler's usual age range. Give it an even 3.0 multiplier and a $47.1 million.
Rob Zombie's House of 1000 Corpses
This is probably the best opening weekend ever for a film that has languished in limbo for over two years, gone from distributor to distributor, been resubmitted to the MPAA several times until it finally got an R, and then released in less than 600 theaters. Anyway, despite Anger Management's record breaking weekend, House of 1000 Corpses ends up the surprise of the weekend, earning an estimated $1.4 million Friday. The standard horror film weekend multiplier will cause it to miss the upper half of the top ten, but even making it at all is nothing to sneeze about. Call it $4 million for the weekend.
Notable Holdovers
Phone Booth drops a surprising 53.8% from last Friday, but should be down a bit less than 50% for the weekend.
What a Girl Wants shows signs of legginess, as it's down just 32% from last Friday, and has a decent chance of just a 25% drop of the weekend.
A Man Apart falls a massive 65% from last week, and will probably be down around that much weekend. Sorry, Vin.
Check back tomorrow for the full weekend estimates and analysis.
Extrapolated Estimates for the Top Ten

Projected
Rank

Film

Estimated Gross (M$)

1

Anger Management

47.1

2

What a Girl Wants

8.3

3

Phone Booth

7.9

4

Bringing Down the House

4.5

5

A Man Apart

4.1

6

Rob Zombie's House of 1000 Corpses

4.0

7

Head of State

3.7

8

Chicago

3.5

9

The Core

3.2

10

Basic

2.2