Friday Numbers Analysis
By Tim Briody
March 22, 2003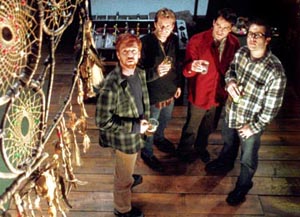 With the minds of North American moviegoers on other things, including the NCAA Tournament, the Oscars, and the war in Iraq, the four new wide releases this weekend were greeted with a collective shrug.
Dreamcatcher
The latest Stephen King adaptation pulled in an estimated $5.5 million Friday, good enough for the top spot. However, it's only about $500,000 ahead of Bringing Down the House, and a lukewarmly received horror film will have a considerably lower weekend multiplier than a crowd-pleasing comedy. Look for Dreamcatcher to finish the weekend in second place with $14.8 million.
View from the Top
The long-delayed Gwyneth Paltrow vehicle managed a better than expected $2.6 million on Friday. After a $7 million weekend, it's going down as a disappointment any way you slice it, but it certainly could have been much worse.
Piglet's Big Movie
A $1.7 million Friday estimate for Piglet may not seem very big, but it (along with Agent Cody Banks) should be unaffected by anything going on this weekend. It's not going to open as high as The Tigger Movie did, but a $6.8 million weekend is still respectible.
Boat Trip
Barely squeaking into the top ten, the Cuba Gooding, Jr./Horatio Sanz disaster that is Boat Trip made an estimated $1.2 million Friday. Figure around $3.3 million this weekend, and a distant memory by the next.
Notable Holdovers
Bringing Down the House drops just 25% from last Friday, and could be looking at both its second weekend of sub-30% declines and third weekend at the top spot on the box office charts. It's neck and neck with Dreamcatcher, but again, when it's horror vs. comedy, comedy generally triumphs.
Agent Cody Banks is not going to be the word-of-mouth franchise MGM was hoping it would be. It's off 40% from last Friday, but should recover over the rest of the weekend and be down around 30-35% or so.
The Hunted plunges a not-surprising 58% from last Friday. After a $6 million weekend, the declines will be similar for future weeks as it starts dropping screens by the truckload. A $30 million total is starting to look like a reach.
Check back tomorrow for the full weekend estimates and analysis.
Extrapolated Estimates for the Top Ten

Projected
Rank

Film

Estimated Gross (M$)

1

Bringing Down the House

15.0

2

Dreamcatcher

14.8

3

Agent Cody Banks

9.3

4

View from the Top

7.0

5

Piglet's Big Movie

6.8

6

Chicago

6.4

7

The Hunted

6.0

8

Tears of the Sun

4.5

9

Old School

3.9

10

Boat Trip

3.3