We Got Served
By Tim Briody
January 31, 2004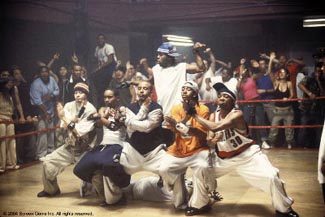 In perhaps one of the biggest upsets at the box office in years, You Got Served takes the top spot on Friday, and even with a traditionally lousy Super Bowl weekend multiplier, should easily take the weekend.
You Got Served
The street-dancin' movie earned a solid $6 million Friday, easily outpacing the other two openers and way ahead of the second place The Butterfly Effect. Even with a horribly front-loaded 2.5 multiplier, You Got Served should still earn about $15 million for the weekend, and we can look forward to You Got Served 2: Electric Boogaloo for the weekend of Super Bowl XXXIX.
The Perfect Score
Perhaps there was a bit too much competiton between this film and You Got Served, or maybe the idea of a movie about test-taking was a bit too much for audiences to take over Super Bowl weekend. Either way, The Perfect Score could only muster an estimated $2.1 million Friday, and will finish the weekend with around $5.3 million.
The Big Bounce
The Owen Wilson/Morgan Freeman caper film barely flops into the top ten with a Friday figure of $1.2 million. The rest of the weekend will not hold much hope for it either, so look for a weekend total of $3.2 million.
Notable Holdovers
The Butterfly Effect falls 44.5% from last Friday, a number that certainly could have been larger given this weekend's new releases and the Super Bowl. The Ashton Kutcher film will be down less than 50% for the weekend, a victory in and of itself.
Win A Date With Tad Hamilton! only falls 37% from last weekend. Date movies (or at least those aimed at female audiences) tend to hold a little better over this weekend, so Tad should decline around 30% for the entire three days. p> The only noticable effect the Oscar nominations had on Friday's top ten was the 76% gain from last Friday that Mystic River had with barely any increase in screens. Decreased multipliers across the board will reduce its overall weekend gain, but it will most certainly see a decent uptick from last weekend.
Check back tomorrow for John Hamann's full weekend recap, complete with BOP's Super Bowl pick.
Extrapolated Friday-Sunday Estimates for the Top Ten

Projected
Rank

Film

Estimated Gross (M$)

1

You Got Served

15.0

2

Along Came Polly

9.8

3

The Butterfly Effect

9.1

4

Big Fish

5.5

5

The Lord of the Rings: Return of the King

5.4

6

The Perfect Score

5.3

7

Win a Date With Tad Hamilton!

5.1

8

Mystic River

4.9

9

Cold Mountain

3.3

10

The Big Bounce

3.2